September was an exciting month for the Hettiaratchi Lab!
We welcome Jonathan Dorogin, graduate student in Bioengineering, and John O'Hara Smith, rotating graduate student from the Department of Biology! Jonathan join us from McMaster University where he most recently completed a M.ASc. in biomedical engineering and worked on developing new biomaterials at Trillium Meditec. John joins us from UC Berkeley where he worked on sticklebacks in Dr. Craig Miller's lab and trained in molecular biology and genetics. We also welcome undergraduate researcher Henry Hochstatter from the Clark Honors College, who is majoring in human physiology.
The lab moves into the new Knight Campus building! We're very quickly getting set up to do science in our new space.

Congratulations to Ireland Johnson and her mentor Annie Gilbert for winning the Peter O'Day Fellowship in Biological Sciences! Ireland's project will focus on improving the versatility of demineralized bone matrix as a treatment for bone injury.

The Hettiaratchi Lab receives a grant from the
Collins Medical Trust
to develop a biomaterial strategy to improve protein delivery to large bone fractures!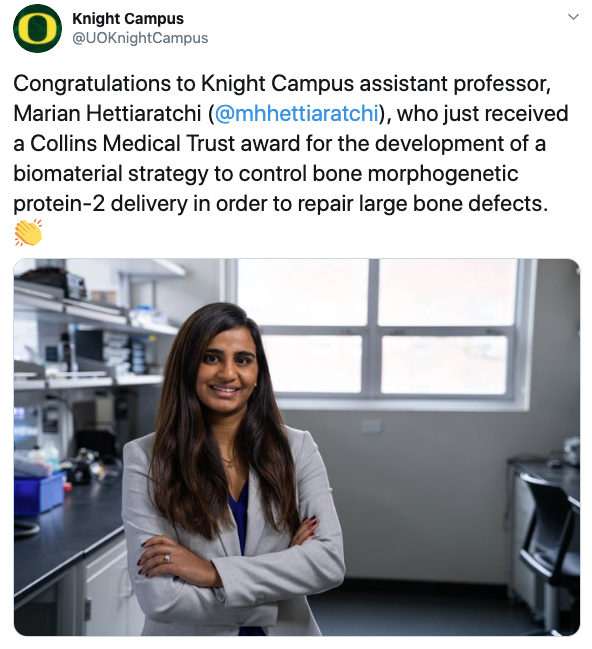 It's starting to look more like a real lab! We've been unpacking boxes and getting ready to get back to work.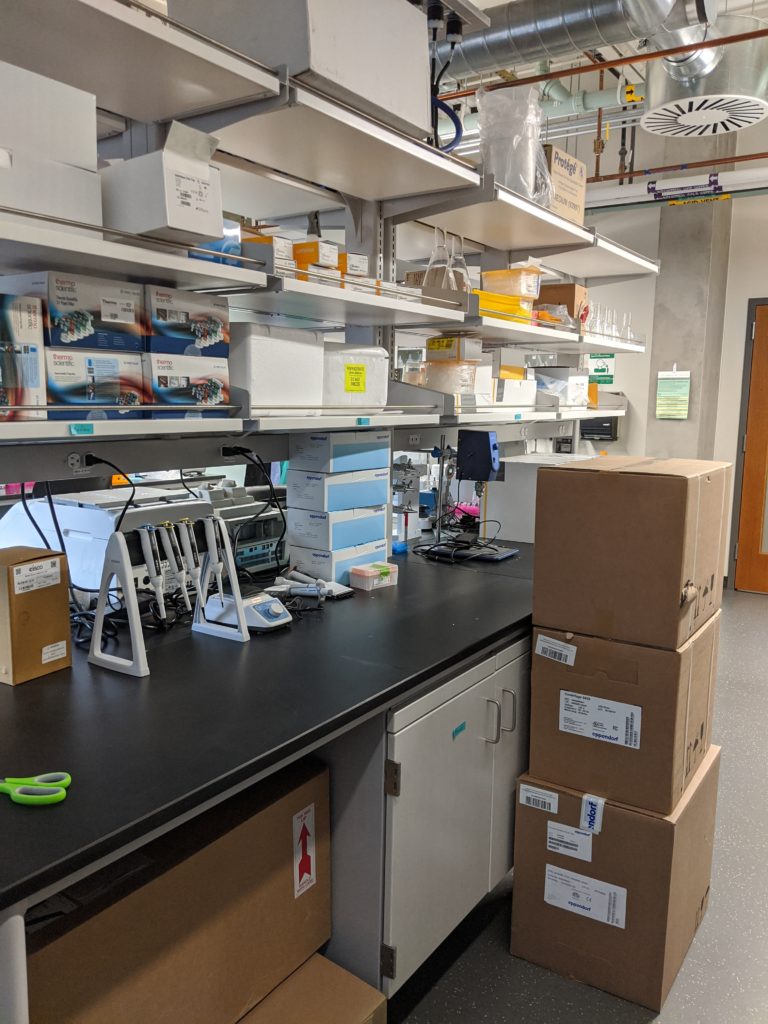 We welcome rotation student, Dillon Willis, from the Department of Chemistry and Biochemistry, and undergraduates, Branden Henry, Hons Rajabzadeh, and Ireland Johnson to the lab!
The lab may be closed, but we're still receiving orders! Here's all the boxes have that arrived so far with new equipment to set up.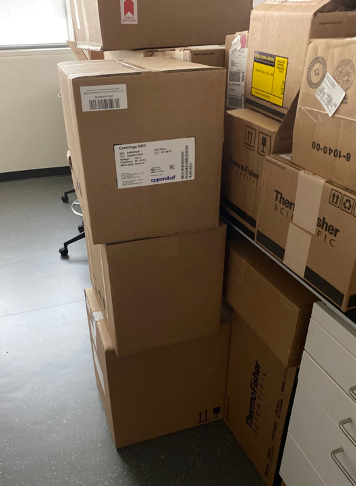 The lab officially opens its doors!
The Hettiaratchi Lab receives a UO-OHSU Collaborative Seed Grant to develop vascularized and innervated bone grafts with Dr. Luiz Bertassoni. We're looking forward to starting this collaboration!
Our new paper on heparin-based biomaterials for protein delivery to repair large bone defects in rats is out in Science Advances. Check out the story in Around the O!